Navigation
With two weeks to go until the first trip I decided to purchase the sat nav that I'd had my eyes on for a while. Up until now I'd only been using the Tom Tom app on my phone which is really good for A-to-B (and via a maximum of 5 way-points), but it had begun to feel a little limiting. You can't follow predetermined routes and it doesn't handle multi-day trips.
A friend had always raved about the Garmin Montana and although it was pretty impressive, it didn't really fit my needs. It was close, but not quite what I wanted. Then Garmin released the Zumo 390 and 590.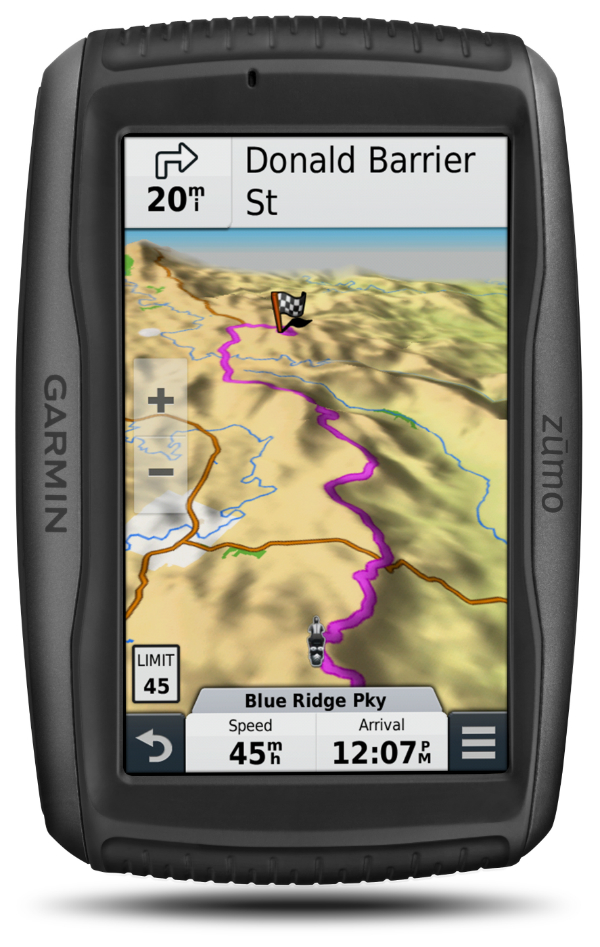 Zumo 590LM in portrait mode
The was looking like it was what I needed (the 390 didn't support the "curvy roads" routing - something the Tom Tom app did!). I didn't particularly want to spend a small fortune but I'm at a stage in life were I just want stuff to work and work well. I'm done buying tat. It'll also come in pretty handy for a planned family trip to the south of France and, of course, Iceland. See
Touratech's 7 Things You Should Know About the New Zumo 590LM
So with the decision made I found a retailer, it was in stock so I paid for next day delivery to give me chance to install it and become familiar with it. Then I received an email telling me it was not in stock and not expected for another week. It won't be delivered until after I've left...
Don't panic!
Thinking I would just have to take all the paper maps and use the Tom Tom app, it occurred to me that I hadn't booked anything (deliberately), so I could still make it work by swapping holiday from Friday to Monday. Work was cool with it, so now the plan is to install the sat nav on the bike Friday evening and leave early Saturday instead. It obviously doesn't allow much time to get packed and get the route sorted. Best pack as much as I can beforehand.
I've planned over ten hours of riding on Basecamp taking me to Snowdon via the Peak District on some amazing looking roads and through places of interest. I just hope the route transfers correctly to the device when it does arrive.
Route planning with Garmin Basecamp.